The Most Dangerous Highways in Louisiana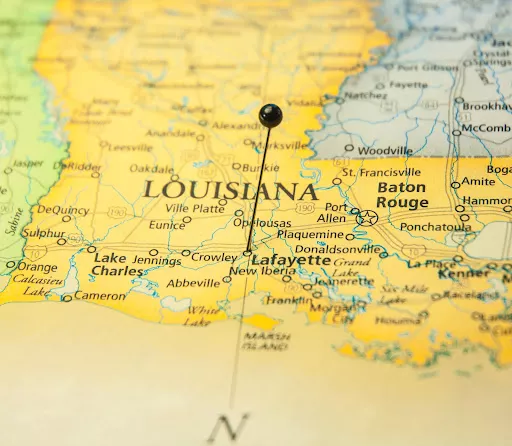 Louisiana is known for its beautiful bayous, thriving and unique culture, and for being the "Sportsman's Paradise." Sadly, however, Louisiana is also known for containing some of the most dangerous highways in the country.
Between 2016–2020, the National Highway Traffic Safety Administration reports that there were 3,571 fatal motor vehicle crashes in Louisiana, or around 700 each year. These deadly car crashes happen on roads all over the state, but there are three highways in particular that are extremely dangerous: Interstate 10, US Highway 190, and US Highway 90.
I-10: Home of the "Devil's Triangle"
Interstate 10 is one of three transcontinental roadways in the country, and covers 2,460 miles from Santa Monica to Jacksonville. Louisiana's 279-mile stretch of I-10 connects the major cities of Lake Charles, Lafayette, Baton Rouge, and New Orleans, and as a result carries millions of cars a year across Louisiana.
There are two particular sections of I-10 that are extremely dangerous:
The Devil's Triangle
So-named by Lt. Ken Albarez of West Baton Rouge Parish, the Devil's Triangle is the stretch coming into Baton Rouge from the west, past Grosse Tete. As drivers approach and cross the Mississippi River, traffic comes from numerous tributary roads and reduces to one lane, leading to over 800 crashes a year, terrible traffic, and delay after delay.
North of New Orleans
Even though I-10 runs to the north of the Big Easy, it's the main road for truckers from both coasts trying to make it to the Port of New Orleans to ship cargo overseas. However, New Orleans is also a popular destination for tourists, cross-country road-trippers, and of course its residents. Combining all these forms of traffic on a busy highway is a recipe for disaster.
US-190: The North Shore Highway
US-190 is actually slightly longer than I-10. This federal highway is 282 miles long in Louisiana, and runs clear across the state from Texas to Slidell north of Lake Pontchartrain, and passes through Hammond, Denham Springs, Covington, and other towns. US-190 is heavily trafficked by big rigs, commuters, delivery vans, and other travelers every year. Between 2015–2017, US-190 saw the second-highest rate of fatalities in the state: 48 fatal accidents over the three years.
US-90: The Most Dangerous Highway in Louisiana
US-90 runs through South Louisiana from Lafayette to New Orleans and provides important access to the ports along the coast. It's also been found to be the most dangerous highway in the state, and the 13th-most dangerous in the United States. Every year, an average of 27 fatal crashes occur on US-90.
The experts believe that this high number of accidents is caused in part by the numerous access points on US-90, especially in St. Mary, St. Charles, and Iberia parishes. There are plans to eventually upgrade US-90 to extend I-49 from Lafayette to New Orleans, which should make the corridor safer.
Primary Causes of Traffic Accidents in Louisiana
The fact of the matter is, these are the main thoroughfares of our state. You might not be able to avoid driving on one or all three of them.
That's why it's of utmost importance that, no matter where you drive, always practice safe driving habits. Even on less-trafficked roads, you'll help keep yourself safe from becoming one of the following statistics:
According to LSU's Highway Safety Research Group, in 2017 more than three-quarters (78%) of fatal motor vehicle crashes included one of the following:

Alcohol
Aggressive driving
Distraction
Failure to wear a seatbelt

That year, more than 40% of all Louisiana traffic accidents were alcohol-related.
Louisiana has ranked in the top 10 states for the most drunk driving related deaths multiple years in a row, according to the NHTSA.
What to do if you're in a Louisiana highway accident
Highways are particularly dangerous due to their speed of travel and their sheer volume of traffic. If you're the victim of a highway crash in Louisiana, you could be facing car repair costs, property damage, hospital bills, lost wages, or worse. You deserve compensation from the responsible party, especially if they were driving distracted or were under the influence.
What should you do if you're involved in a highway crash? Follow these steps:
Get to safety and call emergency services. The most important thing is to make sure that yourself and your passengers survive the crash. The first responders on the scene will be able to treat your injuries, and the police report will serve as vital evidence in the coming legal proceedings.
Call your insurance to report the crash. Do not accept a settlement offer from them at this time! Your insurance isn't interested in getting you the full amount you need to heal from your injuries and move on with your life.
Call the experienced car wreck lawyers at Gordon McKernan Injury Attorneys. We'll provide a free case evaluation and advise you on your legal options. Our experienced personal injury lawyers truly care about your case, and are here to help you find the maximum compensation to recover. We'll help with insurance claims, finding evidence, and even take your case to court.
Give our knowledgeable and caring car accident attorneys a call today at 888.501.7888 for a free consultation. When you've been injured in an auto accident, truck wreck, or other highway accident, Get Gordon. Get it Done.